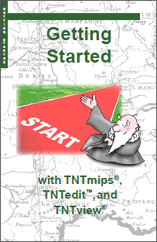 Tutorials for Learning Geospatial Analysis
free tutorial and application booklets with step-by-step lessons
MicroImages has a created this series of free TNTmips tutorial booklets and accompanying sample data, which you can use in a self study program to learn TNTmips and geospatial analysis on your own.

* The tutorials may also be accessed from the TNTmips > Help menu.
Learn the fundamentals first ...
Recently added or updated ...