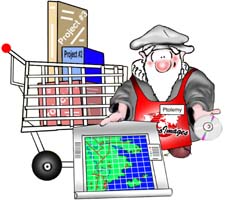 Designing Electronic Atlases
TNTmips provides all the tools to assemble both hierarchical and single layout atlases. You can also create single layout atlases with TNTedit and TNTview. Although the tools are powerful and simple to use, careful consideration of how best to present your data is required. This consideration needs to include not only the scope of the data you have, but who will be using the atlas, and the methods of delivery.

hierarchical atlases

single layout atlases

methods of delivery

combining atlas types

linking to Web sites

view sample atlases on the Web

turning to details

how large is the imagery?

how many layers in the layout?

choices for legendview