The Point Statistics Raster window is used to run the process.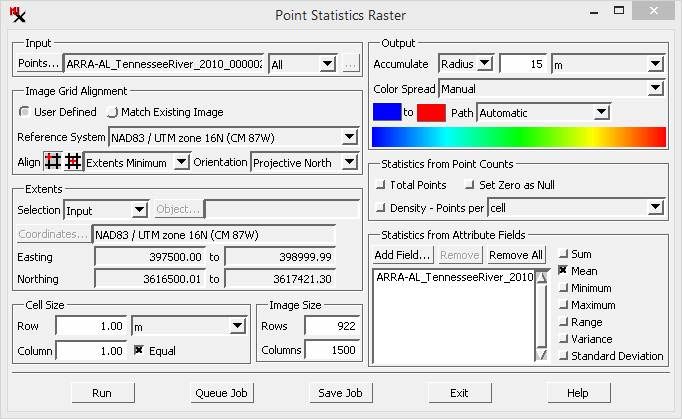 pane
Points – Select a geometric object or shape file with point elements. Specify or limit the points of interest using the All and By Query options.
, and panes
Specify the output raster's grid, extents, cell size, and image size using these four panes. For more information, see the Raster Grid Controls section.
pane
Accumulate – Specify the method used to count points, either by Cell or Radius. Then if using the Radius option, enter the size of the radius.

Color Spread – Menu to select method on how to create the output raster color palette: None, Manual, Grayscale (linear), or Choose. The Manual option gives you two color boxes to set the start and end colors, which is used with the Path option to create the colors: Automatic, RGB, HIS Clockwise, HIS Counter–Clockwise, HBS Clockwise, and HBS Counter–Clockwise. The Choose option opens the Select Palette window. You also have the None and Grayscale options.

Note, if you choose the Manual method, the colors are based on the cell value range and thus may be different from one input to another. However, if you choose a color palette, the colors are set based on the color order in the palette and will remain the same for the same values over different datasets.
pane
Total Points – Point counted based on Accumulate option: the number of points within the output Cell or specified Radius.

Density – Points per unit area.

Note that if Accumulate is by Cell and Density is Points per Cell, the Total Points and Density results will be equal. For areas where no points occur, the Set Zero as Null toggle allows these cells to be "null" to indicate no data, and typically display as transparent. The actual output cell type will be determined automatically based on the maximum count occurring in the resulting raster.
pane
Add Field... – Select one or more field(s) to get numeric point attributes. Then, any or all of the available statistics can be computed: Sum, Mean, Minimum, Maximum, Range, Variance, and Standard Deviation.

Note, the colors are always spread over the range of output values, regardless of whether a manual or predefined palette is used.