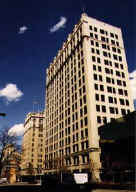 MicroImages, Inc.
Company Information
TNTmips® for image processing, GIS, CAD, TIN, desktop cartography, spatial database management, and visualization,
TNTedit™ for import/export, editing, and advanced visualization of geodata,
TNTview® for visualizing and interpreting spatial data.
TNTatlas® for publishing and using spatial information prepared with HyperIndex. It is available without cost to make geospatial data publishing even easier.
TNTsdk® a free software development kit for creating custom processes for distribution and use with TNTmips, TNTedit, or TNTview.
A free version of TNTmips, TNTedit, and TNTview is available TNTmips Free®, for students and learning professionals. TNTmips Free is now used in almost every nation in the world.
The TNT products are sold directly by MicroImages and by resellers around the world. The resellers provide another level of support and service for the MicroImages clients now operating in over 120 nations and students in almost every nation.
The TNT products have been translated into 24 international languages, including such diverse languages as Chinese, Japanese, Korean, Russian, French, Spanish, Arabic, and Turkish. The international font and language support in the TNT products lets users see the program interface and database tables in their own language, and produce professional maps with annotations, labels, and legends in any language.
Purpose
MicroImages operates solely for software development, manufacturing, distribution, and support. The company performs no service work, consulting, or data collection activities, since by so doing it would be in direct competition with its customers and resellers. MicroImages does not manufacture any computer equipment, although MicroImages does occasionally provide system integration assistance and other specialized consulting services.
MicroImages Press, a division of MicroImages, provides educational and training materials to support the integration of image processing, GIS, CAD, TIN, desktop cartography, spatial database management, visualization, and related objectives with the TNT products. The Press currently maintains and publishes color illustrated materials that include a series of free Tutorial booklets, Technical Guides, and Quick Guides. Documentation is available on the MicroImages web site in PDF format.
Support
MicroImages, Inc. maintains an experienced staff of technical support specialists with computer science or related degrees. These professionals provide direct world-wide support to MicroImages' clients without cost, and also manage the TNT products releases. MicroImages' phones are answered directly by real people and not by recorded messages or selection menus. Hundreds of international FAXes and email requests for assistance are also answered weekly.
Location
MicroImages is located in downtown Lincoln, Nebraska U.S.A. (N 40° 48' 44", W 96° 42' 07"), a community of 200,000, the second largest city in the state. The company's modern offices can be accessed via the 11th floor of the Sharp Tower in the heart of Lincoln's downtown district within easy walking distance of the Nebraska State Capitol and the University of Nebraska. This building houses the software engineers, MicroImages Press, software support staff, production and shipping, training facilities, and other company activities.
A local map helps you find us when you visit. If you plan to visit, we can suggest some nearby hotels.
A Webcam on a building one block from MicroImages shows a view from our office building looking south, towards the State Capitol.
History
MicroImages, Inc. was founded in 1986 by Dr. Lee D. Miller, president, and Michael J. Unverferth, vice president, with its first software product, the Map and Image Processing System (MIPS). MIPS had been developed in a university setting for image processing on microcomputers. Since 1986, MicroImages has released over 50 consecutive upgrades to MIPS, which evolved into a broad, integrated system that includes features for image processing, GIS, CAD, TIN, desktop cartography, spatial database management, and visualization. In 1993, MIPS was renamed TNTmips®, rewritten with a standard X windows interface, and made available for all Windows and Mac computers.