Professional Software License
All professional TNTgis software requires either a USB license key or an E-license
A software license is required to enable the professional TNTgis software you have purchased from MicroImages (TNTmips, TNTscript, TNTedit, or TNTview). There are two license modes that can be used for your software license — USB License Key or E-License. Choose the license mode based on your requirements and the advantages and limitations of each as described below.
USB License Key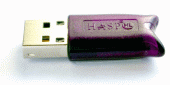 The USB key is a dongle that attaches to a USB port on your computer and can easily be moved between computers. This means you can install and use your TNTgis software on any supported Windows and Macintosh computer.
License Configuration Options
A USB key can be programmed with a floating license to support simultaneous users.
Installation
Install the TNTgis software (do not attach your key at this time)
Start TNTmips and set up License Configuration for your product (follow instructions to install the key driver)
When prompted connect the license key to a USB port
Advantages of a USB License Key
You are able to use your TNTgis software without an internet connection.
Some Considerations for Using a USB License Key
Important: Your software license key IS your TNTgis professional product. Without your key, you can run only the TNTmips Free version of the TNTgis software. Take steps to safeguard your key, even as you take normal precautions to safeguard other valuable possessions. Insure your key against loss, theft, or damage for the full cost of your TNTgis software. If you lose your TNTgis software key, you must purchase a new product license. Note, MicroImages ships your key connected to an identification tag to make it easier to keep track of.
MicroImages will replace damaged keys for a nominal fee. As with any USB device, use care when inserting and removing the key and avoid contact with the metal parts in case of static discharge. Be careful not to bump the key while inserted, particularly when using a laptop computer. If a key is to be moved frequently, consider using a short USB extension cable to avoid excessive wear on the key contacts. Damaged keys must be returned to MicroImages when exchanging.
E-License
With an E-license (electronic license) you will receive a serial number. It works similar to the USB key except that the license validation is done over the Internet instead of using the local key. For this reason a reliable internet connection is required while the software is running.
Installation
Install the TNTgis software
Start TNTmips and set up License Configuration for your product (Help > Configure License)
Toggle on the E-license checkbox and enter the serial number
Advantages of an E-license
No USB key to lose or get damaged.
Can run TNTgis software from multiple locations (one at a time) without having to take the key. Be sure to exit all TNTgis processes before attempting to run on another computer.
Instant delivery and no shipping costs.
Additional features (product and version upgrades, etc) can be enabled without entering activation codes.
If you happen to misplace your serial number MicroImages will send it to you again (with suitable evidence of prior purchase).
Supports running TNTgis using "cloud computing" resources such as Amazon Web Services (AWS), where no physical hardware is accessible for connecting a USB key. This is particularly helpful when using TNTscript for automated processing.
Some Considerations for Using an E-License
Important: A reliable active Internet connection is required while the TNTgis software is running.
Organization firewalls may prevent use of the E-license depending on security constraints. If you are considering an E-license, MicroImages will provide a temporary serial number to try if requested.
Do not share your E-license serial number. If someone else gains access to your serial number to run the TNTgis software this will prevent you from using it. If this does occur, MicroImages can provide a new serial number (and deactivate the old one). However, there may be a nominal charge for this depending on the circumstances.
The E-license option is currently only available for Microsoft Windows.