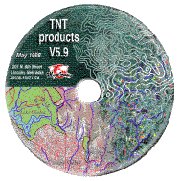 V5.9 New Features
44th Release May 1998
---
Windows 98 Support
Complete support including multiple display monitors.
Visualization
Movable and resizable view-in-view for comparison of two complex views.
Auto-scroll to keep GPS position within a view.
Composite DataTips from several layers with prefix and suffix.
Direct CMY or CMYK views.
Show histograms for regions.
Colormaps added for 16-bit rasters together with editing.
Highlight "attached", "unattached", or "multiply-attached" elements in a table.
Define overall transparency for each layer.
Transparency/opacity of each cell in raster layer via 8-bit masks.
View histograms for areas defined by regions.
Undo 10 steps of zoom, repositioning, and similar actions.
3D Simulation
New process for 3D moving simulations.
Draw a path in 2D view and set viewing parameters.
Reconciles map projection and extent differences; vector, CAD, raster layer superposition; layer creation by pinmaps; ...
Movie clips created in MPEG format for playback in real time.
Import/Export
Import 16-bit SDTS rasters, CMYK TIFF rasters, CCRS Landsat and TM images, and AVIRIS hyperspectral images. Export vectors to SDTS with attributes and georeference for ERMapper.
Editing
Directly edit E00, coverage, and shapefiles.
Use, edit, and convert between new planar and network vector topologies.
Planar vector object does not have polygons.
Network vector object allows lines to cross.
Import, display, and maintain 3D vector objects (vertices with Z values).
Create 3D vector objects by overlay on a DEM.
Automatically assign defaults when adding elements.
Use editing tools to add new 3D elements when overlaid on DEM.
Assign dangling nodes special color for quick identification.
Optimize label positions.
Improved vector filtering with interactive visual evaluation.
Vector Filtering
New process for vector filtering with interactive visual evaluation.
Orthoimaging
SPOT images converted to orthoimages using a DEM.
Vector and CAD overlay objects ortho-corrected along with associated images.
Mosaicking
Feathering methods added for seamless mosaicking.
Improved bundle adjustment for indeterminate cases.
Multiple bands mosaicked at one time.
New process for analysis of hyperspectral imagery free via TNTlite.
Combine or build spectral curve libraries: average, resample, divide, subtract, add, maximum, minimum, and difference.
Edit spectral libraries: set a value, add, subtract, multiply, interpolate, smooth, normalize, and compute derivative.
Analyze spectral curves: Remove Continuum and Spectral Feature Fitting.
Import hyperspectral images and apply calibrations: Equal Area Normalization, Log Residuals, Additive Offset Calibration, and Flat Filed Correction.
Interpret hyperspectral images: Spectral Angle Mapper, Cross Correlation, Linear Spectral Unmixing, and Matched Filtering.
Image Classification
New training set editor to create, modify, and test training sets.
Combine training sets, set color, label, and so on, with interactive tabular approach.
Vector polygons or points converted to training sets.
Use mask to define area to classify.
Apply apriroi probabilities and unknown class in maximum likelihood.
Network Analysis
New process uses network vector, control attribute table, and node attributes.
Find best routes with waypoints.
Allocate routes to and from locations.
Surface Fitting
Breaklines and polygons can represent drainage, ridges, lakes, ... as boundary conditions in surface fitting processes.
New bidirectional fitting method for geophysical and other transect-like surveys.
Create Geospatial Products
Produce Turn-Key Products (TKPs) with scripts and geodata in one Project File.
Run scripts from icon like word document (via autostart and hiding of TNT product).
Icon editor to design tool bar for presenting multiple scripts for TKPs.
Create dialog boxes.
ToolTips, DataTips, and a new HelpTips concept (pop-in help for drawing tools).
Create pin-map and other layers in a view.
Use drawing and region creation tools.
Apply regions for inter-object or inter-layer analysis.
Create and manage database tables.
Capture and use multiple GPS positions with symbolism.
Convert geodata objects between various types (vector to raster, ...).
Encrypt scripts to protect concepts and contents.
Object oriented programming now using 96 classes.
237 new functions, total now ~600.
On-line documentation.
New Tutorial Booklets
Managing Geoattributes · Rectifying Images
Introduction to Map Projections · Constructing a HyperIndex
Changing Languages (Localization)
Feature Update Fliers
These specially prepared color fliers were sent out with the release of V5.90 TNT products. They are available in Adobe PDF format or HTML Web pages for you to browse here online. You can also access similar materials sent out with previous releases of the TNT products.
TNT Feature Update Color Plates in V5.90: