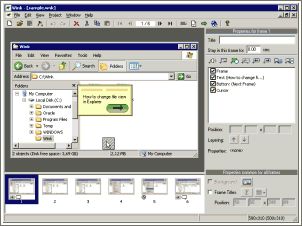 Free Wink Screen Recorder
Show us a Sequence of Steps
The free Wink screen recorder for Windows creates an animated playback of each step you take. Wink has the advantage of allowing you to edit your movie and thus delete extra frames and add notes.
When you finish the sequence that you want to show to our Support staff, just send us the output file via our Contact Support form. Wink cannot be launched via the Contact Support form so the movie file(s) must be manually added to the Upload section.
Download and install the free Wink utility at: https://www.debugmode.com/wink/download.htm
NOTE: The Wink product is created by DebugMode and not sold or supported by MicroImages, Inc. It is free for individual use, but cannot be commercially distributed without arrangement with the publisher.
Other Screen Recorder options: