Contact Support Form
Ask questions, request features or report errors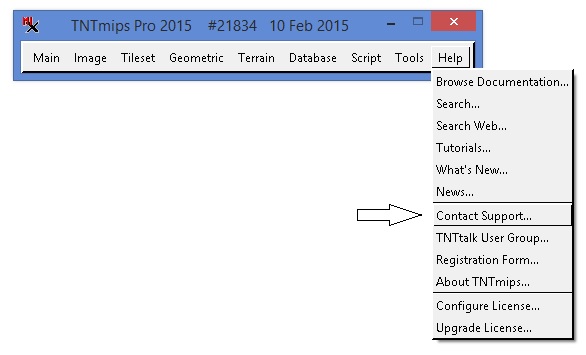 Open the Contact Support form via the software Help menu to easily contact the MicroImages software support team with questions, new feature requests, or error reports. The form lets you enter a description and attach files (such as sample data or screenshots) to help us understand your question and respond quickly. We prefer you use this built-in form when reporting errors as it automatically provides us with helpful information about your TNTgis installation (version, edition, and operating system). You can also choose to automatically include the latest TNTgis log file, last error message, and user settings file.
See the Using the Contact Support Window Technical Guide for more information.
If you cannot use the built-in Contact Support Form because of a firewall or other reason you can use the form below instead.
When submitting an error report, we recommend you include screen captures and/or screen recorder files to help communicate exactly what you are doing, the settings you've used, and what is happening. Click the Upload File buttons to select files to upload, such as sample data, screen capture, and screen recorder files.
Click [Send] at the bottom of the form below to submit your information to us.
An asterisk (*) denotes required fields.
Explanations of fields
TNTmips Process Name
If you are asking a question about using TNTmips or reporting an error, please let us know the name of the process you are running. The process name is shown in the title bar of the main window for the process or it can be described by the menu choices you make to open it.
Upload File (if any)
Click the (Browse or Choose File) button next to Upload File to send us a file containing data, screen shots, or other information that helps illustrate your problem or question. If you have more than three files to send either zip them into a single file or send us multiple reports.
If you are reporting an error, please send your session log file. A new log file is created every day you use TNTmips. It is named in the form yyyymmdd.log and located in the My Documents / MicroImages directory (on Windows). Be sure to upload the log file for the day the error occurred.
When reporting an error it is also very helpful to provide us with the steps that lead up to the problem or question. You can list the steps in the Description field or send us a screen recording of these steps.