Stereo Viewer
View your imagery, maps, or terrain in stereo in a web browser on a TV, monitor, or tablet.

Anaglyph (red-cyan) glasses for any 2D display device

Passive (line-interleaved = movie glasses) 3D TV or monitor

Autostereoscopic (no glasses) 3D TV or monitor

Active (shuttered glasses) 3D TV or monitor (not yet available)
Sample Stereo Viewers: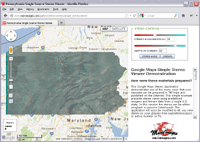 Single Source Viewer 2012 Pennsylvania 1-meter image with 1-foot terrain model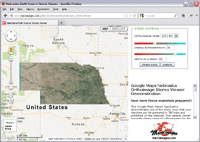 Single-State Multi-Year Viewer Select from 1-meter Nebraska imagery between 2012 and 2003 with a 10-meter terrain model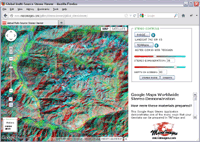 Global Multi-Source Viewer Select from various global imagery and terrain models of varying resolution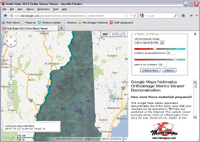 2012 Multi-State Viewer Select 2012 1-meter imagery for a state with a 10-meter terrain model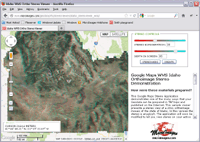 Web Map Server Viewer State orthoimage from Web Map Server (WMS) with a 10-meter terrain model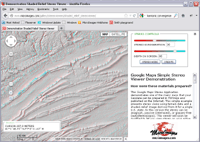 Shaded Relief Viewer Shaded relief and stereo from 1-meter terrain model of Pennsylvania
Viewing your own images, maps, and terrain models.
How can you prepare your materials for viewing in Google Maps in stereo using MicroImages' TNTmips geospatial analysis product for Windows or Mac OSX?
Convert your images, maps, or other geodata to standard web (raster) tilesets and copy to your website.
Convert your DEM, DSM, LIDAR, or other elevation data to a web terrain model and copy it to your website. If you do not have any local elevation data, you can use the web terrain models published for Internet use by Microimages.
Copy the HTML file for one of MicroImages' Google Maps Stereo viewers to your website and edit its URLs to use your image and web terrain model (or MicroImages web terrain model).
Can you view Google Maps or Bing Maps content in stereo?
This Google Maps Stereo Viewer could easily be modified and used to view Google Maps or Bing Maps image and map content in stereo using the global terrain models published by MicroImages. However, such use would violate the licenses for use of their image, map, and other proprietary content.
Use TNTmips to prepare your geodata for other uses on the Internet.
TNTmips provides many other tools for publishing your geodata on the Internet for use in Bing Maps, Google Earth, Google Maps, and OpenLayers. See our Map Gallery for many online examples using image, map, and vector geodata.
You can even convert your elevation and image data to Collada terrain models that allow you to view your custom terrain in Google Earth.
TNTmips also provides high-quality stereo viewing of your local geodata for analysis and editing.