Download TNTscript
Automate geospatial processing using local or network computing resources
Download TNTscript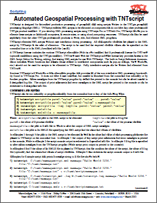 TNTscript allows powerful and efficient geospatial processes to be integrated into complex automated work–flows and custom programs. Leverage the power of the TNTgis SML scripting language across your enterprise network or the internet to automatically create geospatial products as new data arrives or by user requests.
See also: TNTscript
Technical Guide: Automated Geospatial Processing with TNTscript

A professional license for TNTscript, TNTmips, or TNTedit is required.