TNTatlas
Free image and GIS viewer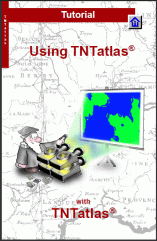 TNTatlas software is a powerful free geodata viewer that lets you publish and distribute your maps and geospatial data — from a single geodata file to complex map layouts prepared using TNTmips.

TNTatlas lets you display massive sized geodata and will directly display numerous file formats including shapefiles, GeoTIFF, JP2, PNG, MrSID, DXF, and DWG.
First time installing on Mac OS X 10.8 and later
TNTgis software on Mac OS runs under the XQuartz X Window System. You will need to download XQuartz 2.7.9 and install the X11 app before running TNTgis software (XQuartz 2.7.10 and 2.7.11 is not supported yet).
If you cannot see the TNTatlas window after starting it, here are a couple of things to try:
• Turn off "Displays have separate spaces" in Mission Control.
• If the X11 icon is showing in the Dock, open X11 Preferences, Output panel and check that the Full-screen mode toggle is off.
Documentation
Join a moderated discussion list where you can communicate with other TNTatlas users ...
A Creative Opportunity
Geospatial information plays a growing part in the way we work and live. Maps, drawings, photos and related materials may be the primary concern in your professional life, or such spatial information may be a growing secondary responsibility. Your duties may include making spatial information available to a wide audience in an easily used form. You may be responsible for the distribution of sensitive corporate or military materials to a user group. Or you may have to rapidly assemble and distribute existing electronic map and database materials for those working in natural disaster relief, health and plant protection, or other time-critical management activities.
TNTatlas, from MicroImages, Inc. is the free publication tool that lets you organize, distribute, and present the spatial information in your world in an easy, atlas-like manner. With TNTatlas, you become an electronic publisher for your company, your profession, or the general public.
There was a day when the only way to widely distribute spatial information was with stacks of blueprints or a custom printed atlas or catalog. You have held a paper atlas and browsed its pages of maps, pictures, and reference tables. Where the map runs off the side of the page, you saw a note like, "for adjoining map, see page 98." When you wanted to see a more detailed map of the city or region you were looking at, you held your place with one finger and searched nearby pages or turned to the index. To view related demographic, climatologic, or economic statistics, you looked in another section for data tables or special maps.
While paper atlases and catalogs are easy to browse, they continually make you look somewhere else for supplementary materials. You must search an index or flip to another section. Today's high-capacity computer storage media make electronic publishing an economical alternative to bulky paper publication methods.
With TNTatlas, you can publish on the Internet and take advantage of the growing world-wide network, with ever-increasing bandwidth, and increased connectivity.
With TNTatlas, you can publish on CD or DVD, and taking advantage of its low media cost, small physical size, permanence of media, and quick access to large collections of geospatial data. Whether you are making one copy or thousands of DVDs, the duplication cost is affordable. With TNTatlas, even computer users who have little training can easily access the geospatial information you publish. And with free TNTatlas software on each disc, everyone in your target audience will be able to use your publication no matter what kind of computer they have.
Of course, if CD or DVD distribution does not fit your circumstances, you can choose any other medium you like. Your publication can be installed on a single-user machine or posted on a network - even one composed of different kinds of computers. A single TNTatlas runs on Windows or Macintosh: no matter what kind of distribution strategy you use, TNTatlas users cannot change the data themselves, so your data remains totally secure, which makes it ideal for any number of public and private access applications.
Authoring
TNTatlas puts you into the publishing and distribution business. Your geospatial data can be collected, organized, and distributed to any target audience.
TNTatlas uses HyperIndex® stacks: spatially related layers of information from different sources and data types linked geographically or spatially. You author a HyperIndex stack of spatial information by using TNTmips. The stack you build will use objects from one or more TNTgis Project Files: collections of raster, vector, shapes, CAD, TIN, database, and text objects. TNTmips has a variety of tools to create and edit objects, and you may import digital materials from a wide variety of formats such as TIFF, TARGA, GIF, DXF, DBF, and other commercial image processing, mapping, CAD, and database formats. Your HyperIndex stack can also include database information attached to graphical elements or image cells on the display, so the user can select any line element or cell and immediately view the attached database record. For example, your stack may display an airphoto with color-coded public road overlays. The TNTatlas user could select a segment of a red highway and view database information that includes surface material, wear condition, traffic statistics, and scheduled repairs.
The objects and views in your electronic atlas can be as complex as you like. Your stack of spatial information can be established to display multiple objects:
side-by-side (before and after views),
overlaying objects (vector and CAD lines over raster images),
graphical symbol overlays (such as icons or pie diagrams), or
additional reference information (like map grids, text blocks, and legends).
The initial view in your stack of spatial information may include any kind of icons, symbolic menus, and control panels that suit your material. You can present each information layer to the user with any kind of instructions, boxes, buttons, questions, images, or any mixture of interface components that you choose. You may build a stack that uses the standard TNTgis object selection window so the user can select from spatially overlapping objects. The TNTatlas navigator window lets the user click arrow buttons to move to related materials that continue "off the edge" of the current view. A tool menu lets the user make simple on-screen measurements with calipers, protractor, or planimeter. You can even implement touch-screen HyperIndex stacks for use on public access terminals.
Sample Applications
An electronic atlas gives you direct access to all types of spatially related material without making you look up all the information manually.
Of course an electronic atlas is not limited to map materials. You can use combinations of engineering drawings (CAD), maps, photos, medical slides, satellite images, catalog pictures, museum images ... the list of possibilities is endless.
Retail sales: Increase sales with an interactive TNTatlas catalog - an automobile parts clerk clicks on an image of a car to select one subassembly, such as the transmission. The clerk selects again on the next diagram until the specific part is pictured, at which time a database can be opened showing the part name, part manufacturer, stocking code, and cost.
Education: Spark children's natural curiosity with visuals that lead them through an enjoyable learning experience about how things relate spatially or geographically. Museum collections, human anatomy, biology, cultural studies - many areas lend themselves to self-paced TNTatlas "field trips."
Government: New policies require many agencies to provide public access to information gathered with public funds. By virtue of its geographically structured approach, TNTatlas offers an intuitive, self-paced, and self-contained way to provide secure public viewing of data such as census data, land use, tax base, and voting precincts.
Presentation: TNTatlas displays graphs, charts, pictures, databases, and other spatial information created in many other kinds of software. Whether your business involves selling plans at the corporate level, setting up displays for multiple conventions, or presenting research results at a hundred town meetings, every presenter in your organization can use TNTatlas.
Publishing
Every computer runs the free TNTatlas software from the same CD or DVD. A single TNTatlas can be used on all kinds of computers, including PCs, Macintoshes, and workstations. No other product gives you that kind of publishing potential. You do not have to purchase multiple copies of TNTatlas to get versions for various platforms-your published CD has versions for every type of computer with your single stack ready to run on whatever computer your client has available.
A HyperIndex stack on one CD or DVD works on every computer. The industry's standard disc formats and the unique TNTgis Project File design make a single HyperIndex stack readable on Windows and Macintosh computers. So the same stack of spatial information that TNTatlas displays in the Windows version will display on the Macintosh. You assemble and publish your spatial information only once.
Identical and easy to use on every platform. TNTatlas has been made simple and intuitive to use on every computer, so most of your clients, customers, and associates should require no instructions on how to run it. They simply select an icon to start TNTatlas, which opens to the top layer in your HyperIndex stack. From that point, the linkages, interface elements, and on-screen instructions that you have provided will lead the user through the stack. You can make the on-screen instructions and control interface as detailed or as sparse as you like, according to the needs of your target audience.
No complex operations manual required. The free TNTatlas software has a discoverable interface that is easily grasped by most users who have some computer experience. You can design your atlas with a number of introductory welcome screens to provide further information and instructions. You may also add a separate booklet of instructions and additional material describing the purpose, contents, and use of your atlas publication. The built-in help files for TNTatlas can be customized and expanded.
Distribution Methods
TNTatlas is a free viewing and navigation product for large collections of geospatial data.
You can make CD's or DVD's with versions of TNTatlas for Windows and Macintosh computers, and still have lots of room for your atlas Project Files.
You can provide TNTatlas to all the computers on your organization's network so that users from all kinds of computers can view the current Project Files.
In Sum
TNTatlas gives you the opportunity to publish spatial information for wide-scale, multi-platform distribution. You can put together complex stacks of relational imagery, maps, drawings, and databases for use everywhere from the kiosks in the front lobby to the president's suite. Whether you use TNTatlas to support a number of network users with frequently updated project materials, or to publish a single stack that can find its way to computers anywhere in the world, you will be taking advantage of the new ways TNTatlas provides for viewing and managing spatially related materials. TNTatlas is the electronic publication tool you need for today's geospatial information.
Call MicroImages Today!