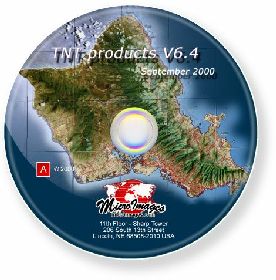 V6.4 New Features
49nd Release
---
Highlight Features:
Undo editing of all objects.
Customize view and interactive tools
Geographically catalog and select objects
System Level Features
Project Files created in TNTlite can now be used in TNT professional products.
Preview all objects in a Project File as thumbnail views in new Overview window.
Select objects from the new Overview window.
Geocatalog the objects in Project Files, including irregular geographic boundaries.
Show Overview window of cataloged objects with shared extent with current view.
Preview thumbnail view of object in all processes, including export and support.
Create large numbers of objects in a Project File up to 1000 times faster.
Locate an object in a Project File with many objects up to 1000 times faster.
Create/use large collections of style/pattern subobjects up to 1000 times faster.
Use relative paths for linked RVC objects: rasters, external database tables, and text.
Visualization
Display vector objects 1.5 to 5 times faster.
Add custom features to display toolbar with custom icons.

Create an SML script to change view or process and add new layers.
Use SML directly or to start C++, Visual Basic, … programs.
Use any object in these internal or external programs.
Overlay or replace the view, layers, zoom, position, selected feature, …

Use view-in-view with contents set up by default.
Highlight elements in 3D view with a query (now same as in 2D view).
Select elements in 2D view and they are also selected in a 3D view.
Fill selected polygons in 3D view (same as in 2D view: transparency, patterns, ...).
View 3D wireframes of large rasters up to 10 times faster.
Custom Tools
Make new interactive tools and add them to display toolbar with custom icon.

Create an SML script to act on selected elements and attributes.
Access current layers and their current display settings in script.
Perform queries in the new tool.
Use any object in any Project File.
Draw new kinds of graphic tools.
Legends
Keep legends as part of each layout.
Composite style samples for legend entries from multiple layers.
Interactively reorder legend elements and headings.
Add all legend entries at once for an element type in a layer.
Use default descriptions for legend entries from the layer.
Interactively edit descriptions for each legend entry.
Editing Raster, Vector, CAD, or TIN objects
Use icon to UNDO edited additions.
Back up as many previous edit steps as desired.
Topological changes to vector objects will be undone.
Changes to relation attribute tables will be undone.
Editing Rasters
Custom brushes show up in designed size and color.
Modeling Watershed Landforms
Process very large elevation rasters 10 times faster.
Mask the area to be analyzed with region.
Create 3D vector object with flow stream lines, basins, and watersheds.
Use new attribute table for watershed characteristics.
Improved handling of depressions.
Import/Export
Vector objects now imported into new "optimized-for-faster-display" format.
Import 48-bit RGB TIFF/GeoTIFF rasters (for Ikonos).
Import/export Portable Network Graphics (PNG) rasters.
Import ArcGrid binary rasters.
Import/export NIMA's National Image Transfer Format (NITF 2.x).
Import/export transparent GIF rasters.
Import labels associated with MapInfo internal TAB files.
Import Intergraph's RLE (type 9) rasters.
Import TAB files to CAD object.
Improved import of SDTS to vector object.
Faster import of MapInfo internal TAB format with more modifiers.
Import Computer Graphic Metafiles (CGM) as CAD object or as point symbols.

(CGM permits import of Common Warfighter Symbology = mil spec 2525A)
New Tutorial Booklets
Introduction to Remote Sensing
Introduction to Designing Electronic Atlases
Operating with a GPS Unit
MERLIN: Enterprise-wide GIS

All booklets updated to V6.40.
Spatial Manipulation Language
Provides suite of watershed analysis functions.
TNTserver
Use same TNT queries as in other TNT products.
Lock off a section of an atlas for maintenance.
Lock selected, frequently used layouts in TNTserver cache to speed up access.
Languages
New Languages added: French, Finnish, Dutch, Slovakian, Romanian.
21 Language Installation Kits now available.