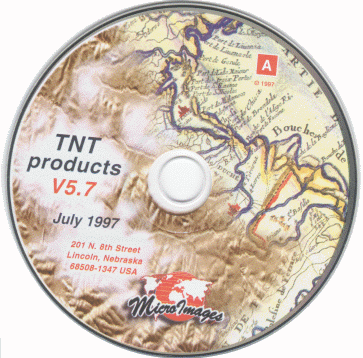 New Display Features: Group Controls, TNT products V5.7
V5.70 -- August 1997
---

V5.7 of the Display / Spatial Data process distributes many useful features between two windows: the Display / Spatial Data control window (particularly the Layers panel), and the related Element Selection window, which is opened by the Examine Attributes icon button. These two windows provide access to display features, object selection, and attribute tables.
A reorganized interface (Display / Spatial Data (V5.8 preview) combines the features of the two windows into one, eliminating duplication, and moving important features to the first interface level. Use Display / Spatial Data when you're in a hurry and need its familiar interface. Use the new version as often as you can so that when it formally replaces the old process, you'll be ready. Just be aware that Display / Spatial Data (V5.8 preview) is not finished, and some features have not been implemented. (You can download the current development version from the MicroImages Web site.)
The Display Spatial Data icon menu provides a New 2D Group icon which is analogous to the old display process. In addition, the icon menu provides New 3D Group (replaces Display / 3D Perspective), New Layout (multi-view / multi-group), New Hardcopy Layout (complex print page composition), and Open Layout (for saved groups and layouts).
A new version of Getting Started: Displaying Geospatial Data, revised to include these new features, is provided in Acrobat Reader format on the V5.70 TNT products CD-ROM and on the MicroImages Web site.
| | |
| --- | --- |
| | Select Layer - indicates which layer in the list is currently selected (analogous to the layer selection highlight in V5.7) |
| | Object Display Controls - opens the object display controls window |
| | Hide / Show Layer - click this icon to turn on / turn off the display of a layer |
| | Show Details - this icon opens subordinate rows of table / selection controls |
| | Tools - an icon menu that offers display and selection tools according to the type of object |
| | Remove Layer - remove the layer |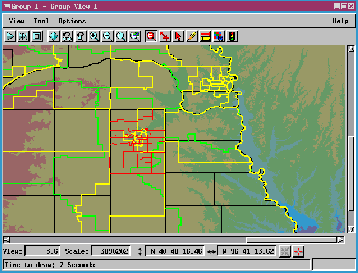 When you click the Show Details icon button, the process exposes the associated table / selection controls. The NRD vector object illustrated has a table / selection row for line, polygon, and node elements. The Show Tables icon button for polygons has been depressed to expose the associated PAT table. Clicking its View Table icon button would open a database display window.



Icon buttons on the scale / position line let you type in map coordinates and Pan to Coordinates or mark that location with crosshairs (Show Marker).