EASI® Database with TNT Products V5.5
V5.50 –– October 1996
This page contains promotional information from Easy Analytical Software, Inc. and information on how EASI datasets work with the TNT Products. V5.50 -- October 1996
---
EASI® Database
All the demographic data
you need for desktop analysis.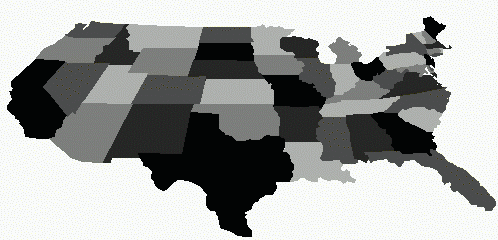 Just $99.95
Easy Analytical Software, Inc. (EASI) in our EASI® Database includes data for complete national files. The data include the following geographies: ZIP codes, cities (population over 5,0000 in the 1990 Census), counties, Sectional Postal Centers (3 digit ZIP codes), Metropolitan Areas, TV Markets, Bureau of Economic Areas, Area Codes, States, Divisions, Regions, and the United States. All geographies include codes and a centroid.
There are 476 Census variables and 29 Quality of Life variables developed by EASI (weather, crime, EASI Weather Index and Quality of Life, earthquake probabilities, etc.) organized into 9 different sections by the following topics:
Summary Variables
General Population Variables
Age By Sex By Race, Ethnicity Variables
Detailed Income Variables
Owner Occupied Household Variables
Educational Variables
Employment and Industry Variables
Quality of Life Variables
Miscellaneous Variables
Included with this EASI Database CD-ROM is an "EASIDATA.HLP" file which includes all definitions of Census and Quality of Life variables and other important information to help the user get started.
Order Today!
The price is just $99.95, plus $6.95 for postage and handling.

Easy Analytical Software, Inc.
P.O. Box 363, 891 East Oak Rd., Vineland, NJ 08360
800-HOW-EASI (800-469-3274), Fax: 609-696-2130

For immediate shipment or answers to any questions:
Simply call toll-free 800-HOW-EASI (800-469-3274)
Or fax your order to 609-696-2130.
You can reach us on the Web at www.easidemographics.com

---
Naming Conventions for EASI Database Files
To find the information that is useful for your analysis, EASI has organized the files (database) in two ways. The first letter of the file name indicates the geography. The list of the 12 geographies is below. The second part of the file name indicates the variable (there is a "_" as a separator between the geography and variable designation). Thus, there are nine file names (each representing a different variable) that begin with the one character designation for each geography.
Geographies
Z = ZIP Codes (29467 records)
Y = Cities (population > 5000; 3733 records)
C = Counties (3141 records)
3 = Postal Centers (3 digit ZIP; 881 records)
M = Metropolitan Areas (318 records)
D = TV Markets (211 records)
B = Bureau of Economic Areas (174 records)
A = Area Codes (122 records)
S = States (51 records)
V = Divisions (9 records)
R = Regions (4 records)
U = United States (1 record)

Variables
sumrep = Summary
genpop = General Population
agesex = Age by Sex by Race, Ethnicity
inc = Detailed Income
occhh = Owner Occupied Household
edu = Education
empl = Employment and Industry
qual = Quality of Life
misc = Miscellaneous

For example:
Y_qual represents: Geography = Cities and Variables = Quality of Life
Z_inc represents: Geography = Zip Codes and Variables = Detailed Income
A total of 108 database (.dbf) files are contained in this product. This total reflects each of the nine variables for each of the 12 geographies. A complete list of all of the fields included with each of the variables is included in the help file that comes on the EASI Database CD-ROM.
EASI Database files in TNTmips® and TNTlite™
All EASI database records contain Latitude and Longitude fields so you can import the information as georeferenced vector points or you can import or link to the files in database form using either TNTmips or TNTlite. The coordinates in the Latitude/Longitude fields are in millionths of a degree; for import as vector points you should select the DDDdddddd coordinate format, and for display as a database pinmap you need to specify coordinates by query and divide by 1000000.
Only three geographies in the EASI database files have too many records for direct use by TNTlite. These geographies are Y (cities with population > 5000), which has a total of 3733 records; Z (zip codes), which has 29467 records; and C (counties, which has 3141 records). TNTmips can be used to extract a usable subset of the points created from these three tables for TNTlite using attributes or query or by selecting points directly from the screen. For example, the capital cities vector object provided as TNTlite sample data with V5.5 of the TNT products was extracted by attribute in TNTmips from the vector points created by the import of general population variables for cities (Y_genpop).
The EASI database records can be associated with appropriate polygon boundaries using relational database features or by using the transfer attributes process. A color plate showing examples of applications of EASI database files in conjunction with vector polygons and points in TNTmips and TNTlite is attached. A description of the various methods for using the data in pinmapping or associated with vector polygons is provided on the back of the color plate.