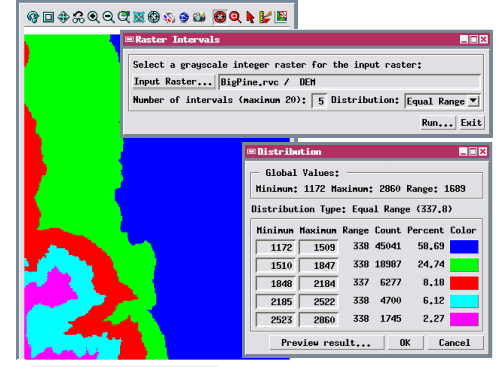 SML provides an easy method you can use to create custom dialog windows for your SML scripts. You can specify the controls and layout of the dialog in a structured text (XML) format. Explore the links below for background information and sample scripts that provide helpful examples of dialogs created in XML.
bonjour1.sml
bonjour1.xml
Illustrates the use of callbacks for dialog controls.
bonjour2.sml
bonjour2.xml
Illustrates the use of dialog control callbacks in a script tag in the dialog specification.
drawdlg.sml
Creates and opens a dialog window and uses a drawing area.
gendlg.sml
Stub script to open demonstration dialogs generated from specifications in XML files.
getdata.sml
getdata.xml
Illustrates different available methods for reading values from a dialog.
view.sml
Creates and opens a standard View window and displays a selected raster.
widget1.sml
Creates and opens a simple dialog window using Motif Widget classes.
widget2.sml
Example of setting up a dialog window with different types of widgets.
View Window
| | | |
| --- | --- | --- |
| | gamma.sml | Adjust gamma of raster Uses a standard display window that shows side by side view of the original raster and results of modifications. |
| | multrang.sml | Quantize raster cell value to user defined ranges Uses a standard display window that shows side by side view of the original raster and results of modifications. |
| | stddisp.sml | Standard Display Interface Displays side by side copies to show before and after versions of raster. |
| | View3d.sml | 3D View Opens a 3D View< |