Screen Settings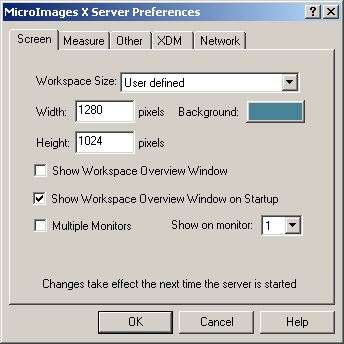 The Width and Height values determine the size of the virtual MI/X display. The MI/X display can be larger than the resolution of your display monitor if you want. When it is larger than your display resolution, the MI/X window offers scroll bars and an optional Overview window to let you position your view.
The Workspace Size drop down allows you to force the height and width to a multiple of your actual display size.
The Background button lets you set the background color for MI/X. Click the color box to open a palette window.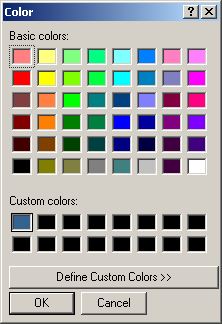 When the MI/X window is larger than your display resolution, an Overview window lets you position the view area within the MI/X window and also drag process windows in and out of the view area. You can show/hide the Overview window with the Show Overview Window checkbox. The Overview window does not show unless MI/X is larger than your display resolution.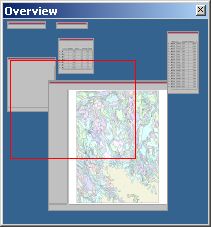 The Show Overview Window on Startup checkbox lets you set the default show/hide state of the Overview window. With this option on, the Overview window will always show on startup if the virtual dispaly size large enough to require scroll bars on the MI/X window. With this option off, the Overview will show on startup only if it was showing the last time MI/X quit.
Check the Multiple Monitors checkbox if you have two or more monitors in your system and you want MI/X to span all of them by default. (Even if you don't check Multiple Monitors, you can drag MI/X between monitors whenever you want.)
The Show On Monitor option button is active if you have multiple monitors on your system, but have the option to span them turned off. Use it to specify which monitor MI/X will use as its default home.
Note that these last two options only show up if you actually have more than one display board in your system.